The MSM, of modular conception, is made up of three units :
1) the data acquisition unit which comprises:
a roughness sensor ( contact or non-contact ),
an amplifier unit to condition the signal obtained on the sensor ,
an Analog / Digital Converter board (ADC).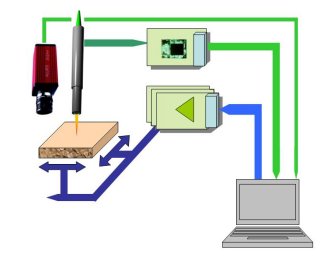 2) the displacement unit, which allows displacement and positioning of the sample surface under test, comprises :
two step-by-step crossed stepper motors,
a power unit to amplify the motor driving signal,
a Stepping Motor Controller board.
3) the central processing unit, which controls data acquisition and their exploitations, exists under two material and software MSM configurations :
© a PC compatible under Windows system.
User-friendly, allowing 2D and 3D data acquisitions. This configuration has the following functions :
least squares fitting,
low and high-pass filtering,
roughness parameter calculation,
high resolution printing for 3D maps.
Its program allows :
quick 3D statistical and frequential analysis,
access to specific descriptive measures,
measurement of fractal dimensions,
richer data bases.